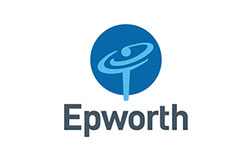 Client: Epworth Healthcare
Project: We are Epworth
Style: Highlights Video, Branded Content
ABOUT
Epworth Medical Foundation is the fundraising arm of Epworth HealthCare, the biggest charitable, not-for-profit health care group in Victoria. Patients at Epworth come from Melbourne and across Victoria, travelling from regions as diverse as Barwon, Central Highlands, Gippsland, Goulburn and Loddon, among others, as well as a significant portion from interstate Australia.
CLIENT BRIEF
Epworth Healthcare were keen to produce a video for the Epworth Medical Foundation Ball which showcased their achievements in healthcare over 2016 and 2017. Set with a list of these achievements, it was key to include as many of the different departments within Epworth to showcase these highlights. The video would also aim to instil a strong sense of pride for all those that work within the business. It was also important to show what these achievements meant for patients, and acknowledge the generosity of donors. The video complimented a speech by the Chief Executive.
OUR APPROACH
The client had a number of ideas on how this could be portrayed and we worked together in developing a creative concept, based around the statement "We Are Epworth". The client was instrumental in organising all of these patients and staff at set times over the course of two days filming, and everyone in front of camera did their job really well. We spent a day at the Geelong hospital and day two between Richmond and Freemasons.
It was important the tone of the video was warm, feel-good and about the people. We had the idea than rather than a voiceover narrate the video, we enlist the talents of the Epworth staff. So we tasked people from different departments to deliver one line to camera each, with relevant footage showcasing that department. This really resonated with the rest of the team. To break up the video, we also created a number of sequences where the camera flew between various staff members within one sequence to each deliver a line to camera. There was quite a bit of setting up for each of these sequences, but it all went off seamlessly. Onscreen graphics were also utilised to display key information as required.
OUTCOME
The video was very well received at the event and was distributed throughout the business. Without direct promotion, the video quickly racks dup over 1000 views from an internal audience. Next step is to promote the video to the public, where they hope that view count increases multiple times over.